Culture of Kumarakom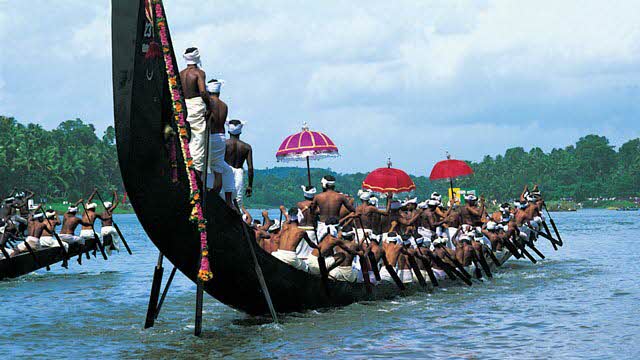 People
The local people of Kumarakom are very close to nature and switch to a simple and healthy lifestyle. Their traditional costume is known as mundu and their economy is basically based on backwater fishing, agriculture and tourism.
Religion and Language
Hinduism is the most predominant religion in Kumarakom with the significant population of Muslims and Christians also. Some of the followers of Jain and Buddhist community also form a small portion of the population in the town. Malayalam is the official language where as Tamil, Marathi, Konkani and Englishare also spoken in Kumarakom.
Fairs and Festivals
Apart from common Indian festivals,Kumarakom also celebrates traditional Kerala fairs and festivals with great zeal and zest. Onam in August and Ugdi in April are the two important festivals that are closely associated with the culture of Kumarakom. Besides, Kumarakom has acclaimed high recognition worldwide as a venue for hosting famous snake boat races held at the time of Onam.
Food
The local cuisine of Kumarakom is mainly comprised of rice and fish, however the people also include several South Indian dishes like idli, dosa, vada, sambhar, appam, kappa etc in their menu. Karimeen Pollichathu is the main dish of the natives of the town and being a coastal region, sea food and coconut water also forms an important part of their cuisine.
Things to do in Kumarakom ( 23 )