Culture of Garhwal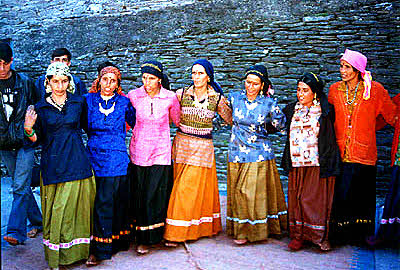 People
The culture of Garhwal presents an interesting blend of the indigenous population and traditions of other immigrants that settled here periodically. The local people of the region are associated with many tribes and work hard to earn their living. Folk dance and music forms an integral part of the people and culture of Garhwal.
Religion and Language
The major religion followed by the Garhwali people is Hinduism and the majority of population consists of Brahmins. The main languages spoken here are Hindi, Kumaoni, Garhwali, Bhotiya and Jaunsari.
Fairs and Festivals
The people of Garhwal celebrate all the major Hindu festivals with great enthusiasm such as Holi, Diwali, Makar Sankranti, Basant Panchami, Vijaydashmi, Phool Dei, Harela, Khatarua, Bat Savitri, Janopunya, Chippla Jaat etc. moreover, a lot of fairs are also celebrated here such as Kumbh Mela, Jauljibi Fair, Nandadevi Fair, Uttarayani Fair and Jageshwar Fair.
Food
The local cuisine of Garhwal region is simple but nutritious including pulses, cereals, rice and seasonal fruits and vegetables. Some of the local food specialties of the region are fannah, kafuli, baadi, ras, bhatt in churdkani, arsa, gulgula, jhangora ki kheer, kandali, phanu and palau etc.
Things to do in Garhwal ( 22 )