Culture of Gangotri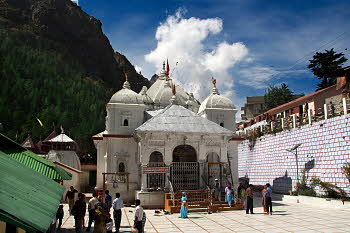 People
The rich culture of the people of Gangotri is reflected into the various forms of art and craft created by the locals in the town. The people here are indulged into several kinds of handicraft making, wood carving and painting. The people are very king hearted and adhere to their traditional rituals and traditions.
Religion and Language
The region is dominated by the Hindu population, hence Hinduism is the major religion followed by the people in Gangotri. However, people belonging to other religions also dwell in the town. Hindi and Garhwali are the main languages to be spoken in Gangotri.
Fairs and Festivals
Being a popular Hindu pilgrimage, almost all the important Hindu festivals are celebrated in Gangotri with great fun and frolic. The Gangotri Temple closes on the festival of Diwali every year and the idol of Goddess Ganga is shifted to the Mukhyamath Temple located in the Mukhba village which is 20 km downstream. The temple then gets opened on the occasion of Akshaya Tritiya held in the months of April or May. This festival is celebrated with great zeal and zest across the region. The temple is decorated lavishly and the idol is taken back to the temple followed with great procession and dance. The Ganga Dusshera festival is also celebrated in Gangotri in May-June which is a sacred celebration of the Goddess Ganga.
Food
There is nothing so special about the cuisine of Gangotri. As a popular Hindu pilgrimage place, only vegetarian food is allowed in the town. The cuisine mainly comprises of north and south Indian dishes such as chapatti, rice, vegetables, dal, lentils etc. Non vegetarian and alcohols are strictly prohibited in the town.
Things to do in Gangotri ( 16 )