Boating in Bheemeshwari, Karnataka
Must See
1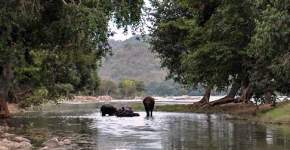 Galibore Fishing Camp
Land, Entertainment, Nature, Water
Famous for: Adventure Sports

---
This place is great for relaxing the minds of tourists. This is a beautiful spot having a background of the waterfalls. It is located at a distance of sixteen kilometres from Bheemeshwari. It ha...
Popular
2
Boat Rides
Nature, Water
Famous for: Boat riding and rafting

---
Boat rides are indeed a fascination in this place. Tourists find boating a rejuvenating and enjoyable experience. Many operators offer to organise the boat rides in this place. The Cauvery river...
Things to do in Bheemeshwari ( 10 )