Bharatpur Tourism
Lohagarh, Bharathpur
| | | | |
| --- | --- | --- | --- |
| | 0 | | Reviews |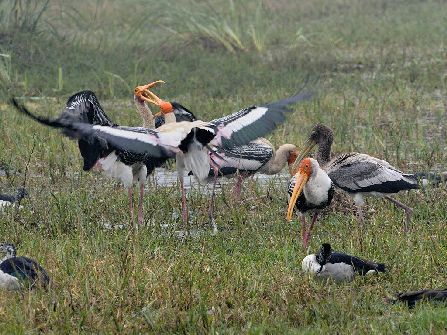 About Bharatpur
Bharatpur is one of the most famous tourist destinations in the state of Rajasthan in India and is dotted with multitude of wonderful natural and historical attractions that beckons the tourists from all over the country. Known as the eastern gateway to Rajasthan, Bharatpur is renowned for its beautiful bird sanctuary which is truly a bird watcher's paradise. Every year a number of visitors from all across the globe come here to visit this fantastic bird sanctuary and to capture the unforgettable sight of numerous exotic bird species flocking merrily in a natural habitat.
In addition to the sanctuary, the ancient city of Bharatpur is also renowned among the tourists for its architectural splendors in the form of magnificent palaces, forts and temples. Showcasing a rich cultural heritage against the rough majesty of the desert region, the town is dotted with many ancient monuments that depict the rich history and grandeur of the bygone era of the royals ruling over here for years. In fact, a tour to Bharatpur takes the tourists into a glorious saga fragrant with wonderful history, exquisite architecture and royal civilization. Some of these beautiful attractions include the Lohagarh Fort, Deeg Palace, Ganga Mandir, Bharatpur Palace and Laxman Mandir etc.
Founded by Maharaja Suraj Mal in 1733, this glorious town of Bharatpur was once the princely capital of Jat Kingdom. The city is named after King Bharat who was the brother of Lord Rama. The entire history of this town is flourished by the interesting stories of the valor and bravery of the kings who fought to protect their land from the Mughals and the British. Numerous forts and palaces standing in the town still depict the impassive saga of these brave fighters who survived and died for their Motherland. A tour to Bharatpur offers the visitors an opportunity to seek through the panoramic natural splendor and captivating architectural heritage of the historic town.
Bharatpur Fast Facts
City: Bharatpur
District: Bharatpur
State: Rajasthan
Country: India
Famous for/as: Wildlife
Best Season: Oct to Mar
Summer: 32 to 45°C°C
Winter: 5 to 29°C°C
Rain: Jul to Sep
Altitude: 183 m (600 ft)
PIN Code: 321001
STD Code: 05644
Languages: Hindi, Rajasthani, English
8 Places to Visit in Bharatpur