Ziro Tourism
The Land of Scenic Grandeur
| | | | |
| --- | --- | --- | --- |
| | 0 | | Reviews |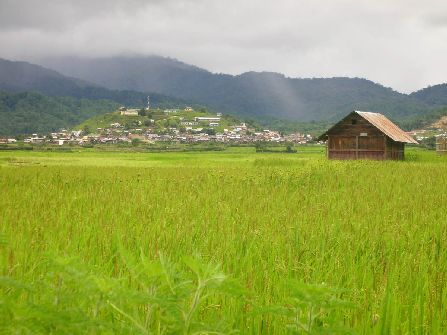 About Ziro
Ziro is one of the ancient towns in the state of Arunachal Pradesh and is mostly inhabited by tribes known as Apa Tani. Ziro is a marvelously beautiful valley endowed with lush green paddy fields and lofty hills that make it an ideal home to exotic species of flora and fauna. The ethereal natural beauty and charm of the Ziro valley has made it acclaimed as a World Heritage Site.
Ziro is a famous hill destination in Arunachal Pradesh that lies in headquarters of Lower Subansiri District and is nestled at an altitude of 1688 meters above the sea level. Surrounded by pine clad hill ranges, the beautiful valley of Ziro boasts of a salubrious climate and pollution free atmosphere. The quaint village of Ziro is located in the picturesque valley known as Apatani Plateau which is enveloped by paddy fields and pine covered mountains offering a panoramic sight to be captured by the nature lovers.
The major inhabitants of the region are the people of Apatani tribal which practice the paddy cum fish culture means rearing of fish in the rice fields. They also built unique home out of bamboo plantations. These tribal people are quite warm and kind- hearted. They celebrate a number of festivals showcasing their unique culture and rich tradition. The Mloko Festivals, Murung Festival and Dree Festival are some of the major festivals of the tribes which are celebrated in the region with great enthusiasm and also offer an unusual experience for the tourists.
While a trip to Ziro, the tourists can also explore the wonderful Talley Valley which is 30 km away and is dotted with immense bio diversity ranging from sub tropical forests to the silver fir plantations. The valley is also home to the rare species of ferns, bamboo and orchids. In addition, the Hapoli town near to Ziro is also a worth visiting place which is known for its fish farms located at high altitudes.
Ziro Fast Facts
City: Ziro
District: Lower Subansiri
State: Arunachal Pradesh
Country: India
Famous for/as: Garden
Best Season: All year
Summer: Summer 22 to 40°C
Winter: Winter 10 to 32°C
Rain: Jun to Sep
Altitude: 1700 m
STD Code: 91-3788
Languages: Apatani, Nishi, Hindi, Assamese
8 Places to Visit in Ziro