Culture of Kollam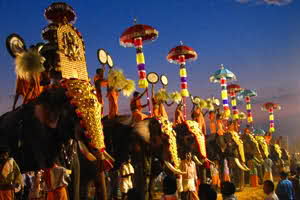 People
The people of Kollam are very religious and traditional in nature. Dance and music is the integral part of the culture of the people. Generally their lifestyle is quite simple and they give much importance to education.
Religion and Language
The people of different caste and religions reside in the city with deep harmony. The majority of Kollam population switch to the Hinduism but Christians and Muslims also live in the city.Malayalam is the official language of Kollam. Moreover, Telugu, Tamil, Kannada and English are also spoken.
Fairs and Festivals
A lot of festivals are celebrated in Kollam that mark the cultural heritage of the region. Someof theimportant festivals are Kollam Pooram, Astami Rohini Festival, Oachirakkali Festival, Crafts Festival, Onam, Easter and Christmas.
Food
The coastal city of Kollam boasts of a delectable cuisine including mouth watering vegetarian and non vegetarian delicacies. The people of the region are also very fond of sea food and rice. Moreover, due to a centre of spice plantation, the cuisine of Kollam is generally hot and spicy with lots of chutneys and pickles. Coconut is also a major part of all the food recipes prepared in the kitchens of Kollam.
Things to do in Kollam ( 31 )