Culture of Kanpur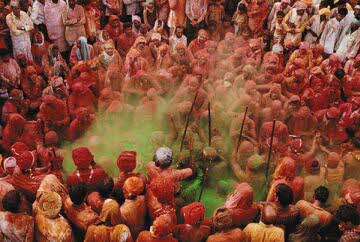 People
People of Kanpur are very simple and lives very ordinary life far apart from the showy life like many big cities. People of Kanpur are very harmonious and pay great respect to their elders.
Food
Kanpur is famous for its multi-cuisine food and therefore, there are so many restaurants to offer you the same. Also, a trip to Kanpur is incomplete without tasting its mouth-watering Chat!! But chewing of Pan complete your meals in the city of Nawabs!
Languages and Religions
Basically, people of Kanpur make use of Urdu, Bengali, Punjabi, Hindi and English for mutual conversation.Mainly, Hinduism is followed in Kanpur but Islam and Sikhism is also followed.
Local Festivals, Music and Art
As we all know, India is full of festivals and so how come, Kanpur could be left aside. The main festival celebrated in Kanpur is Holi. This festival is celebrated with full joy and ecstasy among the local people and different colors fills one's life with colors. Other festivals like Diwali, Id, Janmastmi, etc are also celebrated in Kanpur.
Things to do in Kanpur ( 9 )