Skydiving, Air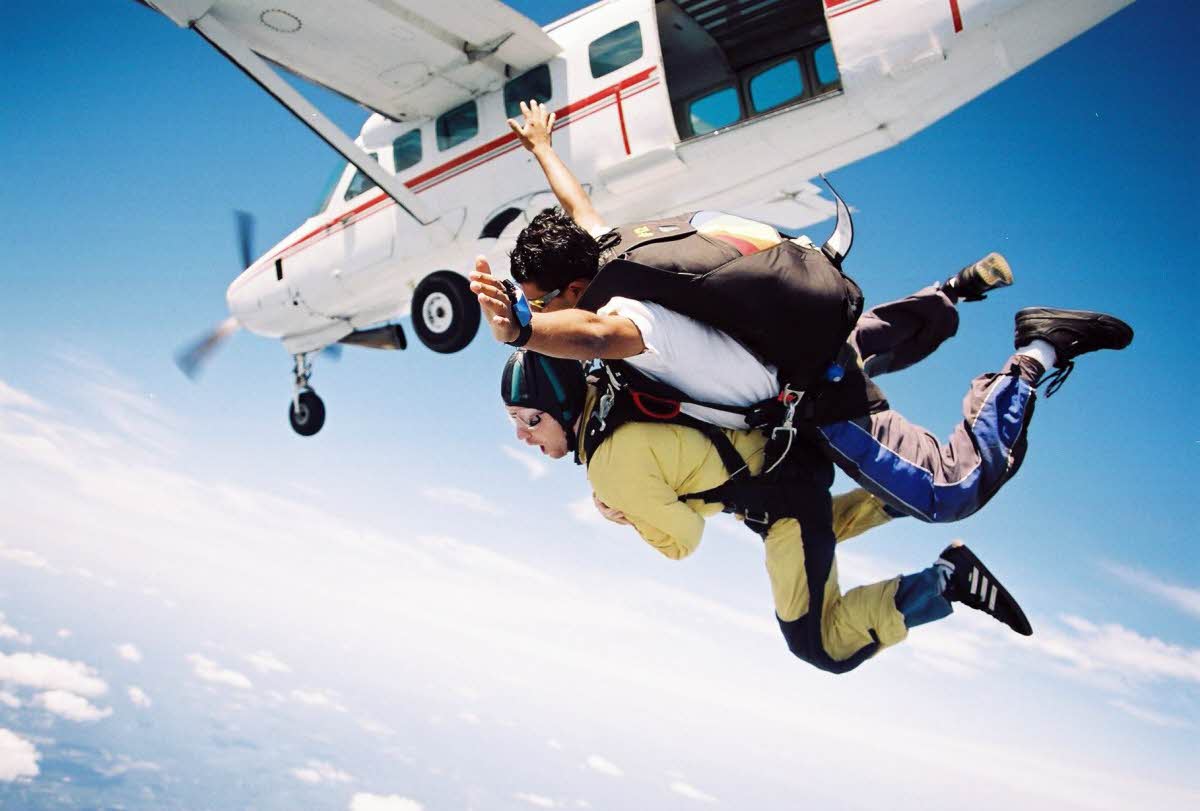 Explore Skydiving Destinations ( 5 )
Skydiving - Things to do
If you want to experience the thrill of your life free falling from sky then SKYDIVING is the sport for you. There are a number of aero sports that are popular around the world. Amongst these sky diving is soon edging out as a popular sport amongst the adventurers.
In sky driving an individual has to jump off an aircraft at an altitude and then free fall initially without the use of a parachute. While freefalling participants can do a set of aerial maneuvers before gently landing on ground with the help of a parachute. In some countries Skydiving is also known as Parachuting. There are various training methods for Skydiving. Some of the popular ones are Tandem Skydiving, Static Line & Accelerated Free Fall (AFF).
Tandem Skydiving: Tandem jumping allows first-time jumpers to experience the thrill and excitement of the sport without the preparation and knowledge required for a solo jump. The entire jump is controlled by the instructor .The training for the tandem jump takes up less than an hour.
Static Line Sky Dive: Most static line jumps are made approximately 3,000 feet above the ground. A line attached from the parachute to the aircraft opens the parachute as the student falls.
Accelerated Free Fall (AFF) is often used by those seriously interested in becoming a trained skydiver. One needs to attend a full day of training before the first jump. Most AFF courses are taught privately or in small groups, with personal attention given to each student.
In this method, two instructors securely hold on to student while they leave the aircraft together at 10,000 feet or above. The instructors hold on through the entire freefall of 40-50 seconds, supervising the student as he or she performs what was practiced on the ground. The student opens his own parachute at 4,500 feet and follows ground or radio signals to the landing zone.
If you are interested in Skydiving then it is important to gather as much information as possible about the sport before venturing out yourself. One needs to undergo some rigorous training to take part in Sky diving.
For those who would like to experience Skydiving numerous companies are there around the world offering specialized training courses for Skydiving. Certification courses are also available for Skydiving.
Skydiving can be done at any time of the year except the monsoon and the rainy seasons. Timing is more important for Skydiving than weather. One should go Skydiving on a clear day either from 8:00 am to 10:00 am or from 4:00 pm till 5:00 pm. This is primarily because this is when the best light is available without you having the sun directly on your head.
Not known to many is the fact that there are a couple of places in India which are the best places for skydiving are:
Haryana: Pinjore (Panchkula)
Rajasthan: Jaipur
Madhya Pradesh: Dhana
Karnataka: Bengaluru
So go ahead and share the joy of flying like a bird in clear blue skies!