Rappelling, Land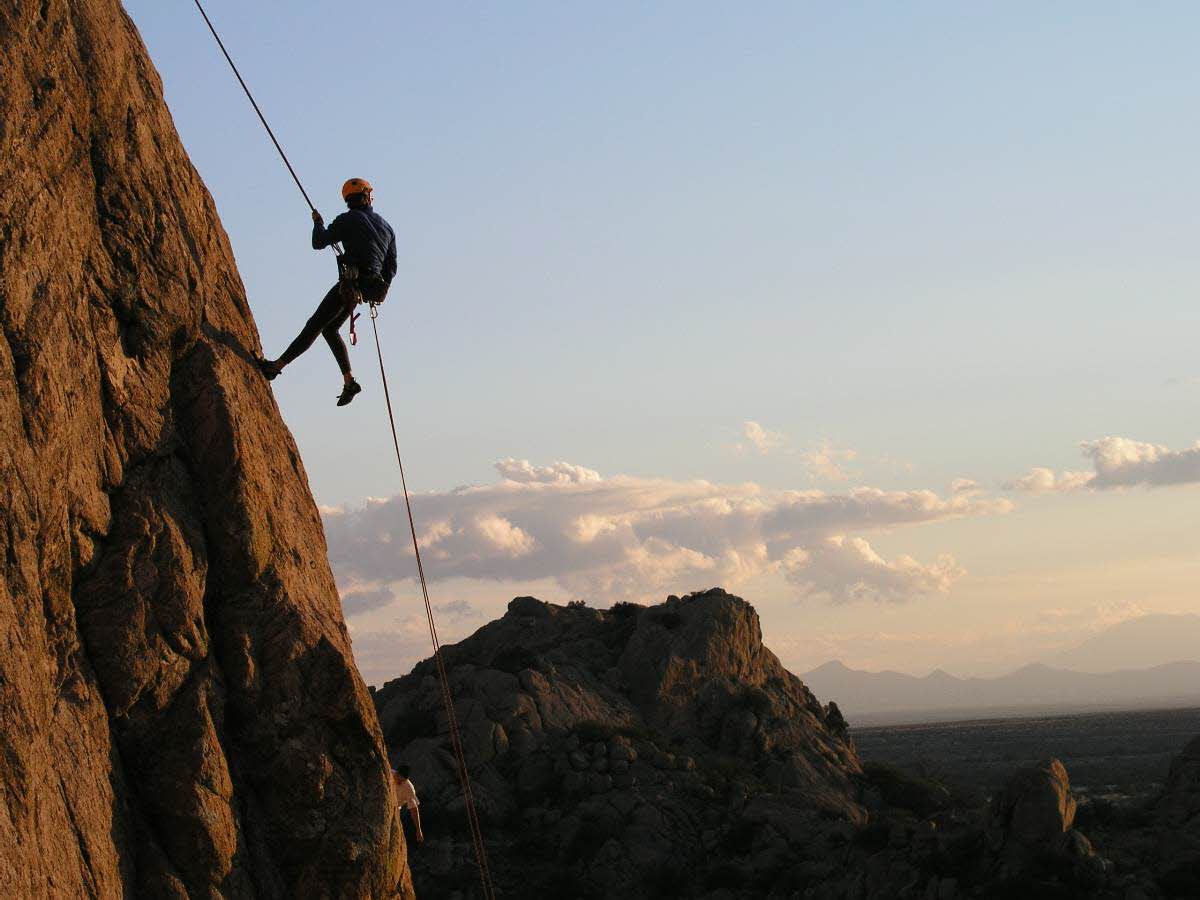 Explore Rappelling Destinations ( 9 )
Rappelling - Things to do
There are a number of sports and challenges available for all of those who are looking for some challenge and excitement in life. One such activity is Rappelling or Abseiling as it is known.
Rappelling is a technique that allows you to do a controlled descent down a rope from a cliff or rock. This is different from Rock Climbing. Rappelling is the process of coming down from a rock or cliff. In this act one uses ropes to make their way down the faces of steep rock formations. Done correctly, rappelling can be a very quick and safe way of getting down from the top of a rock to the ground.
If done properly this is one of the safest adventure sports and can be undertaken by people of any age who are normally fit. But as in any sport it is important for all including beginners to know proper rappelling techniques. The correct equipment, body position, and rope handling is very important. The basics of rappelling are simple enough to understand in theory, but one must always use caution when applying them.
There are some points to keep in mind when one does Rappelling. In every rappelling activity selecting the right anchor point is very important.
In Rappelling it is very important to tie your rope to an anchor point, making sure your anchor point does not obstruct the rope. It is vital that the anchor point is solid and firmly grounded. Trees and rocks are some common anchor points.
Always make sure that the rope being used for Rappelling is not torn, frayed or weakened. As a beginner it is important that one practices on rocks of small heights not more than 10 ft high. It is advisable to use ropes with a belay device attached to the waist. Belay devices act as a break to the fall through friction. As a precaution one can tie the simple bowline knot or a two-loop bowline knot looped at the end of the rope for increased safety.
It is always important to control one's speed by rappelling. You can control the speed of your descent, at least until you are very experienced.
Make sure to wear gloves to prevent any rope cuts and burns. Keeping your mind focused on taking slow descent, using small steps, is important so as to avoid losing your footing and sliding down the rope. If one is not careful one can seriously damage their hands on the thick ropes used for rappelling.
Wearing a helmet is also important during the rappelling act. The main equipment for rappelling is a locking carabineer and a rappel device.
The best time to go Rappelling is from mid May to mid October.
India has some interesting Rappelling sites in Karnataka, HP and Uttaranchal.
A lot of dangers are hidden in the simplicity of this sport. That is why it is important to learn and master the skills that are needed for rappelling. Safe rappelling depends entirely on your equipment and skill.
Rappelling is not just the process of sliding down the rope, but it is a close integration of multiple climbing skills including creating anchors, tying knots, rope management, rigging the rappel device, using safety back-up systems, and retrieving the rope.
Using good judgment, paying attention to all the details, and always double-checking your rappel systems is the key to having a great time falling from the heights!!!