Culture of Alleppey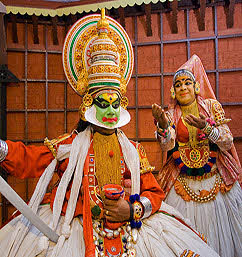 People
The people of Alleppey are quite traditional and stick to their customs and culture. They are very simple, friendly, hospitable and have broad outlook. The traditional dress of the people of Alleppey is white Mundu and Neriathu. The local residents of the town are very enthusiastic and celebrate each and every festival with great zeal and zest. The occupation of the region is primarily based on agriculture, handicrafts, backwater fishing, coir carpet industries and shell collection.
Religion and Language
The majority of people living in the city of Alleppey belong to the religions of Hinduism and Christianity. The commonly spoken languages here are Malayalam, Tamil, English, Hindi and Konkani.
Fairs and Festivals
Awide array of colorful fairs and festivals are celebrated in Alleppey among which the most common are the Temple Festivals which are characterized by grand processions, colorful decorations and cheerful jubilations. The most significant festival to be celebrated here is the Onam that marks the harvesting of the new crop. Moreover, the Snake Boat Race held in Alleppey is the indispensable apart of the culture of the city.
Food
The cuisine of Alleppey includes the traditional Kerala cuisine including rice, fish, idli, dosa, sambhar, uttapam, karimeen pollichathu and other sea foods.
Things to do in Alleppey ( 23 )