Goa Food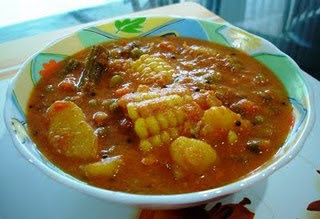 Situated on the coastline, Goa is actually famous for sea foods. In Goa, one can have delightful experience eating out here. The city offers wide varieties of cuisines.
In Goa, there are many restaurants and eateries. So eating out here is not a problem. Variety of restaurants that offer multi-cuisine platter are located on the beaches, cities, towns or even villages that would give you a wonderful experience all together. Besides these there are many fast food joints like Domino's, Barista, Café Coffee Day. The cuisine is a mix of various cultures and is a reflection of its history.
The variety is so wide that you will get confused about what to eat and what not. The delicious sea food or the lip-smacking non-vegetarian cuisines is a must and one should as many dishes as one can when in Goa. But in Goa the best is to try the local food that is available in all restaurants all around the city. Along with this one can also try the best quality of juicy fruits like custard apples, pineapples, etc. and the mocktails that are prepared by the local people. The popular drink of Goa Feni should also be tried at least once.