Visakhapatnam Food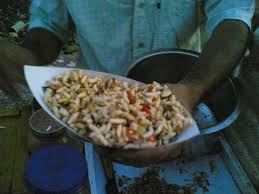 Vizag has outstanding restaurants for South Indian spicy food. Vizag serves several types of cuisines. The people who come to the beach enjoy the Murri mixture. Some of the famous items of Vizag are Putharekulu, Booralu, Appadams, Pulihara and Murku. Some of the most delicious hotels that serve this kind of dishes are:
Hotel Daspalla – serves delicious foods with excellent services.
Hotel Green Park – it is a multi- cuisine buffet restaurant.
Eleven – provides tasty food and drinks.
Flying Spaghetti Monster – An Italian restaurant with an Italian fare. Special dish here is the Chocolate Bomb.
Some of the bars are located inside the Five Star hotels and they are quite expensive. Here people can have a decent drink and also enjoy the special food of Vizag.