Culture of Udaipur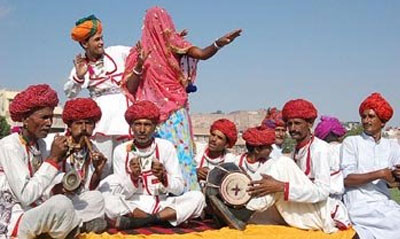 Udaipur still retains its rich cultural heritage even after adoption of big cities' life style. The city is quite fortunate to have wonderful culture gained from the long-gone era.
People
People of Udaipur are undoubtedly reliable and humble. They really have very good nature and they possess great quality to impress anyone who comes in touch with them. In other words, they are very soft by their heart and quite polite and cheerful. The basic taste of people of Udaipur is to wear dark colored clothes and traditionally, women wear "Ghaghra Choli" and usually men used to wear Kurta and Dhoti.
Language and religion
Language plays great role in perfect communication. Rajasthani or in other words "Mewari" is the main local language on the tongue of Rajasthanis. But, if you don't know this, no problem as the local people are also good at Hindi and English.
If we talk of religion in Udaipur, then Jainism is at the top priority. But this doesn't mean that other religions like Hinduism, Islam, Sikhism and Christianity are ignored. People of all religions can be found there!!
Food
Vegetarian dishes are the most liked ones in Udaipur. The main section of food in Udaipur is covered by green vegetables and lentils. Though it sounds simple but it tastes yummy with lots of different spices.
Local festivals, art and music
Udaipur local festivals add great charm to this romantic city. All its festivals are very colorful and blissful but then also the most famous one are Mewar festival and Shilpgram Crafts Fair. If we switched over to music, then the people of Udaipur finds succor in playing various musical instruments like Naad, Tanpura, Sarangi and Morchang.
Things to do in Udaipur ( 17 )