Culture of Patna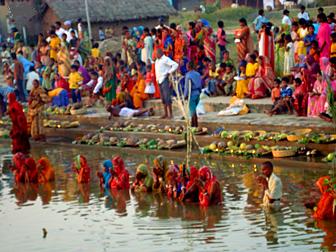 People
People of Patna are known to be religious and family-oriented, with the joint family system prevailing in most parts. Hindi is the official language of the state. Dhoti-kurta for men and sarees for women is the traditional dress of the people, along with the Western dressing style popular in urban areas of the city. Jewellery is also worn by the people, such as men wearing rings and women being fond of bangles.
Language and Religion
Though Hindi and Urdu are the official languages in use, a majority of the population speaks native Bihari dialects like Bajjikaa, Bhojpuri, Maithili, Magadhi or Angika. These have descended from the former Magadha Empire.
A major chunk of the population practices Hinduism, in addition to a large number of Muslims. Christianity is practised by a minority of the ethnic groups.
Food
An assimilation of both Bengali and North Indian cuisine is peculiar to the city. Litti-chokha (made of chickpea flour) and khichdi are the favourite staple foods. Seekh kababs and shammi kababs are also famous in the Muslim areas. Another delicacy is the kadhi bari (made of gram flour) along with the tarkari cooked in mustard gravy. Motichoor ke ladoo, khurma and malpua are the famous dry sweet delicacies.
Local Festivals, Art and Music
The main festivals celebrated in Patna are the Sonepur Mela, the Pitrapaksha Mela, the Kite Festival and the Chhatth Puja. Folk songs and dances such as the Chhau dance of the tribal communities are famous.
Things to do in Patna ( 11 )