Wind Surfing, Water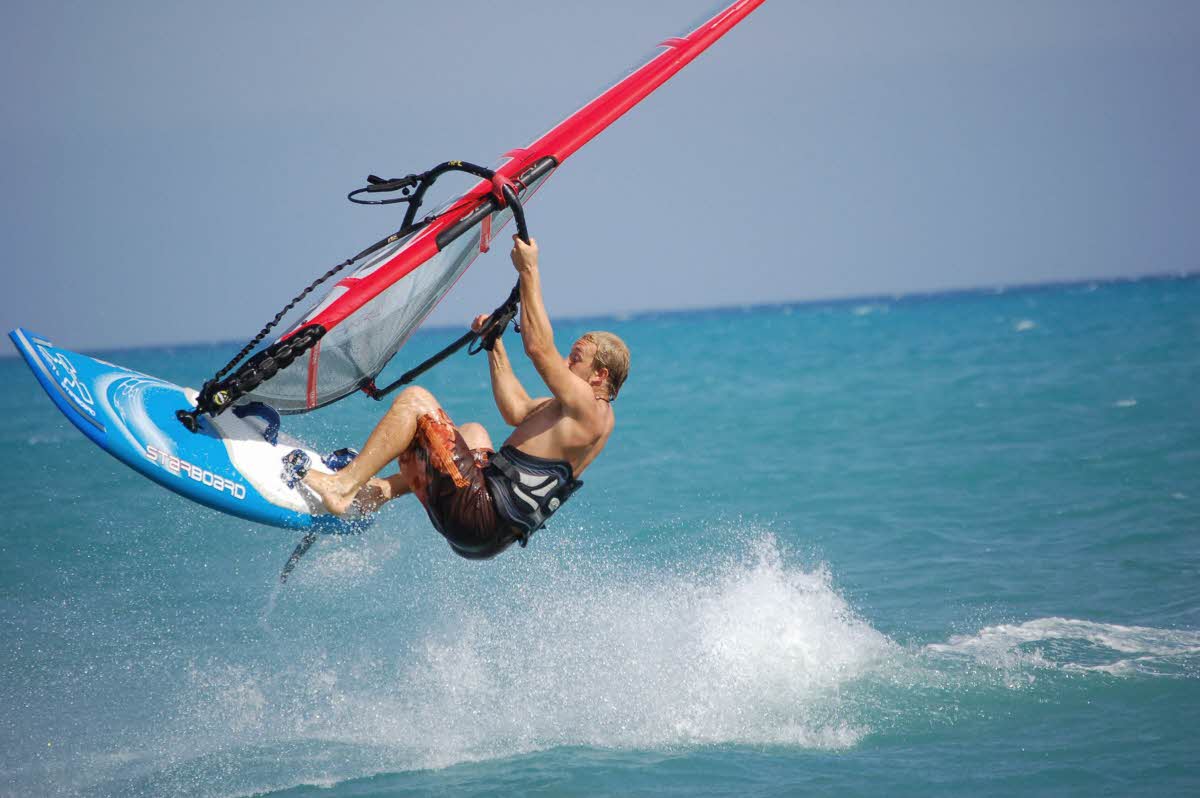 Explore Wind Surfing Destinations ( 8 )
Wind Surfing - Things to do
If you are ready for some breathless moments and experience yourselves in the lap of nature then get ready for Windsurfing.
This sport which was quite popular globally in the 1980's is making a quiet revival now in many parts of the world. Windsurfing which is also known as boardsailing is a sport involving travel over water on a small 2-4.7 meter board powered by wind acting on a single sail, that is connected to the board via a flexible joint. This sport is an amalgamation of sailing and surfing. When doing windsurfing it is to be remembered that the steering is done by tilting the mast and sail rather than with a rudder.
This is quite a young adventure sport with its roots set in the 1940's. In 1948, twenty-year old Newman Darby came up with the idea of mounting a hand-held sail and rig on an universal joint. In 1968 sailor Jim Drake and surfer Holy Schweitzer got together and this saw the birth of windsurfing in the state of Southern California. They obtained the first patent for the original windsurfer which measured 12 feet in length and weighed 60 pounds.
Windsurfing is possible under a wide range of wind conditions, but most recreational windsurfers prefer to sail in conditions that allow for consistent planning with multi-purpose, not overly specialized, free-ride equipment.
It is always good to keep in mind that Wind-Surfing is a challenging sport and it requires great coordination between the mind and body. It is important to learn a few basics in the beginning. It is important to keep in mind that everybody who does windsurfing is likely to fall on the board at least once. Even the most experienced wind-surfers do slip off the board. This is a constant battle between you and those gigantic waves and so there are moments when you are off balance. All this makes this sport so much more adventurous.
In the beginning take the board to the deeper end of the sea or ocean so that the fins of the board doesnot touch the bottom. Initially it is better to join some course where there are special wind surfing boards available for beginners. Learning different techniques to help yourself balance when you are out on the water is the main tip for the game. To become more aware on balancing yourself and judging your center on gravity one can try skateboarding.
As you gather more experience you will learn to hold on the boards longer before hitting water.
One needs to be careful while picking up Windsurfing Equipment and gear. Though windsurfing is more popular in international countries there are a couple of enthusiasts for this game in India also.
There are a couple of private resorts and adventure sports organizations who hold regular camps for coaching on Windsurfing. Goa and Kerala is the major hub for Wind-Surfing in India. There are a number of resorts off Mumbai and Pune which offer Windsurfing packages and even specialized training.
In India one should avoid venturing into Wind Surfing especially during the winter and rainy season.
All in all Wind surfing is a wonderful experience to trust yourself into God's mighty hands and be at peace with his creation.