Water Skiing, Water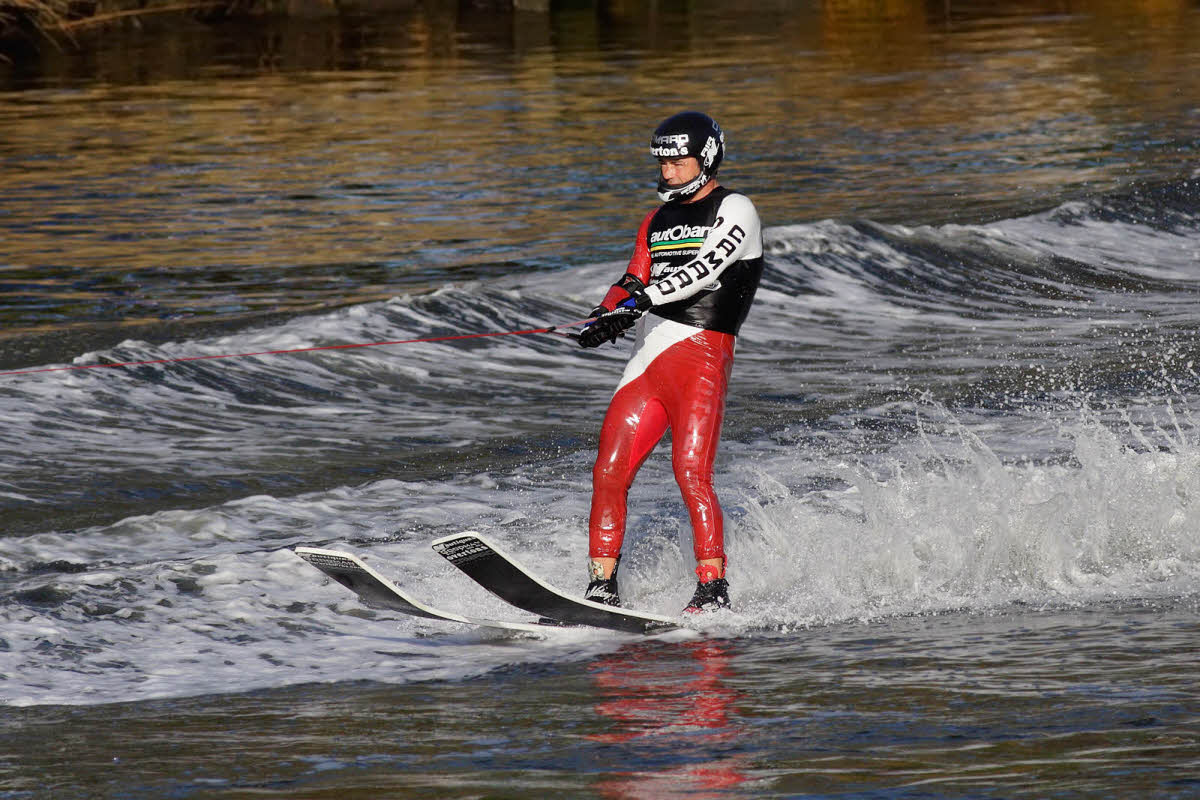 Explore Water Skiing Destinations ( 16 )
Water Skiing - Things to do

If you thought skiing was only done on snow then you are mistaken. Get ready to glide on water with – Water Skiing.
Water Skiing has grown popular over the last few years with people flocking the beaches with skis and boat in tow. Water skiing is not as difficult as it appears to be. For the most part, all that it requires is a little knowledge of procedure, a good grip, and the sense to know when to hold on and when to let go. This simple water sport can be done by people of all ages with minimal instructions and guidelines.
In water skiing a skier is pulled behind a powerful motorboat via a ski rope. The skier can use only one or double skis. Beginners generally start on double skis and then progress to single skis. The water skis have rubber molded bindings to keep the feet in place. However, it requires gathering a few pieces of special equipment before getting out on the water.
Four main types of water skis are available worldwide. These are combination pair, slalom skis, trick skis and jump skis. The type of ski used by an individual will depend on his /her skill level and the activities one plans to do on water. Most skiers initially use the Combination pair of skis as they are the most easiest to put on. Slalom skis are reserved more for skiing on only one ski at higher speeds. Trick skis are used by those who are proficient in taking turns, jumps and other tricks on water.
Jump skis are used for jumping off the water ramps. Quality pulling equipment that connects the skier to the boat is essential both for the safety and quality of water ride. When you do water skiing in colder climates then using a wetsuit will help to keep you warm against the cold chilling water & wind.
Water skiers also wear a floatation costume called the ski – vest. Some skiers also wear gloves to provide better grip on the rope. The ski rope is available in various sizes. The rope should be of the correct length. Shorter ropes are used by more professional skiers. Skiers use hand signals to communicate to each other. A ski boat or other motorized water-craft is required to gain speed so as to get up on the ski in water. Ski racing is a very popular sporting variant of Water Skiing.
Water Skiing provides a good exercise for your body and strengthens the muscles of your arms and legs. But it's always wise to be a little conscious if you are trying out water skiing for the first time as it can easily tire a beginner.
It's not necessary to be a great swimmer to do Water Skiing but it is definitely recommended as there are moments when due to the speed of the boat you may get thrown out of gear! Those who are not good at swimming need to make sure that you wear life jackets while skiing.
India has myriad spots along the coastline where Water Skiing can be done.
Dakpathar in Dehradun district, Garhwal hills, Ramgarh Lake Jaipur, Chambal River Kota, Pong Dam in Kangra Valley, Gobind Sagar near Bilaspur, Chamera Lake near Dalhousie, Nagin Lake in Srinagar are some exotic locales where one can enjoy water skiing!
So, those of you who have an appetite for some exhilarating experience must try out this once on their next holiday!!!