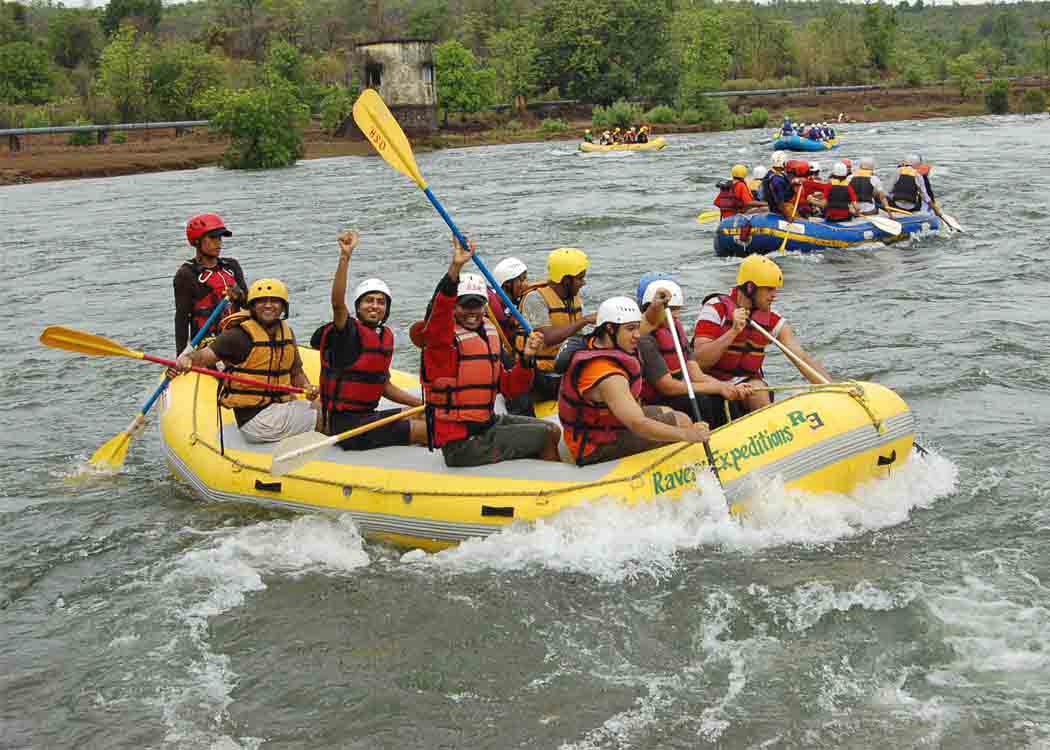 Explore Rafting Destinations ( 14 )
Rafting - Things to do
If you love adventure and you are in the mood to get your adrenaline pumping, your heart racing for your next vacation, then perhaps a Rafting trip would be a great idea! White Water Rafting or what is simply known as Rafting is a popular outdoor activity which makes use of an inflatable Raft to navigate a body of water with turbulent current, usually a river.
Before anything else, you need to know that Rafting takes place on rivers. Not all rivers can be a venue for running rapids. Rapids are classified based on the conditions of the water. These classifications indicate how intense and difficult Rafting can be in the particular river.
The rivers in the upper Himalayas are among the best in the world for river rafting sports, with many twisting and twirling rapids that challenge the mind and body of the rafter. India has a wide range of river rafting regions, which suits both amateurs and professionals.
There are different kinds of rafting the popular ones being Black water Rafting & Whitewater Rafting. Typically Black water rafting is done in groups. It involves floating on underground rivers, navigating small falls and caves. This kind of rafting is very dangerous and should be done only by experienced people. White water rafting is more popular.
It is important for all rafters to know basics of swimming before trying this sport.
Appropriate rafting gear on most rivers during the summertime is a simple swimsuit, nylon shorts, tennis shoes or sandals, and a hat. For spring and autumn rafting trips one requires additional clothing. Many rafting clubs have wetsuits available for rent. One should always dress in layers while going rafting. This will make it easy for adding or removing clothes as needed.
Learning the maneuvers, skills, and technical know-how is one of the important aspects of Rafting. Familiarize yourself with the essential techniques on how to raft and understand the ins and outs of the sport so you can have a safe and enjoyable experience.
Before embarking on your Rafting trip it is important to pay heed to the health of your body. One doesn't need to have a 6 pack abs for this but definitely one needs to have strong arms and shoulders. While on the raft do remember to carry a dry bag to store any personal items in the trip. Avoid carry expensive items like your mobiles, wallets or car keys on the raft.
The most incredible part in Rafting is going with the flow and expecting the unexpected! There is nothing compared to the thrill of paddling through roaring currents.
Some of the amazing places for rafting in our incredible India are:
Teesta River, Sikkim
Beas River, Himachal
Ganges River, Garhwal, Uttranchal
Gangotri, Garhwal Himalayas, Uttranchal
Lake Paradise, Nanital, Uttranchal
Asan Barrage,Uttranchal
Kudiyala Rafters Club, Uttranchal
Satluj River, Shimla, Himachal Pradesh
Ravi, Chamba, Himachal Pradesh
Chandra, Lahaul, Himachal Pradesh
Bhalukpung, Assam
There are a lot of surprises that you can expect especially when journeying through unexplored rivers. Just enjoy the adventure for what it is –a chance to break away from the stresses of life and have FUN!!!