India unfolds its colorful personality in its every aspect with pomp and vigor. Known for its diversity and cultural opulence, India offers an electrifying sense of spontaneity to its tourists contemplating to travel through lengths and breadths of this democratic country and explore its true essence. No matter, how much you have learnt from books and online about the country, words will fall short when you visit its wonders. In that case, approach a reputable Plan my India trip agency to have access to an incredible package that will take you on a novel riding spree.
Being the second-most populous and seventh-largest country in terms of area in the world, India welcomes you to its 29 different states and A-1 cities, such as Chennai, New Delhi, Mumbai and Kolkata. There is so much to see and experience in this country that you might need a few months and even a year to know the spirit of the nation, its language and its people. Scenic hills, temples, forests, beaches, mountains, deserts make it purely thrilling for tourists who want to experience it all in one country. Owing to one of these reasons, tourist attractions in India are always high and hold remarkable record.
The list is never-ending if we continue with the popular names and places but a few of the notable landmarks are apt to help you savor the quintessence of the country.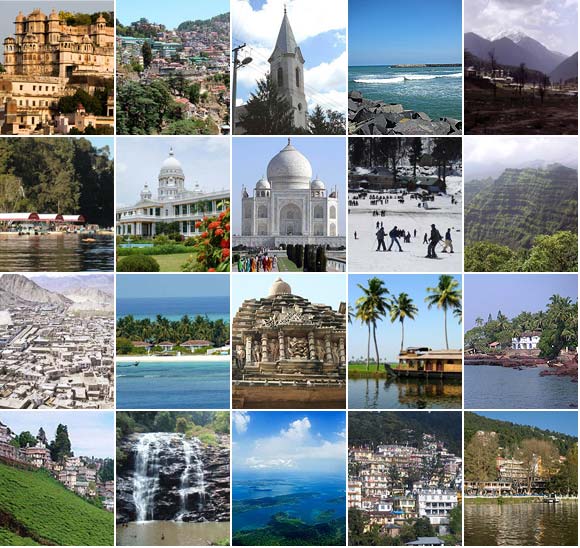 Visit the Taj Mahal in Agra, City Palace in Udaipur, Tirupati in Andhra Pradesh, Borra Caves and Kailash Giri in AP, snow-capped mountains in Arunachal Pradesh, Kaziranga National Park in Assam, Bodh Gaya in Bihar, churches and beaches in Goa, Somnath Temple in Gujarat, picturesque natural beauty in Jammu and Kashmir, Sunderbans in West Bengal, the backwaters in Kerala and much more.
The India tourist places are innumerable and each has its own story and history to narrate with interesting tales of myths, kings and their kingdoms. The most intriguing aspect is that as a visitor you will fall in love with its cultural variance that blend in together to spell the country's values. Its vernacular architecture will leave you flabbergasted and you will find it very regional in its flavors. Hindu theology, mythology, literature and philosophy instill beliefs and practices among men. If you want to explore India to the lees, then explore the Sanskrit language, regarded as one of the oldest languages in the world existing today.
Being a multifarious country with many animated personalities, India is a must-visit to all tourists.